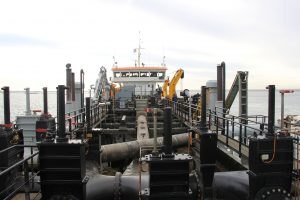 Equipment for dredging and marine works is so much more than a tool to fix a job. It is the result of decades (sometimes centuries) of technological development in shipbuilding, pump technology, drives, winches, etcetera. The development of this hardware has always been tailored towards improvements in performance and output of the equipment, whilst keeping costs low and possibly reduce unit rates.
The experts of Blue Pelican Associates have background in civil or mechanical engineering, with decades of experience in dredging and marine works. Based on executed projects in all stages (from conceptual to implementation) and of all types (like equipment modification, hydraulic transport, production estimates, workability assessment, cost comparison)  we are capable to advise in comparing newbuilt concepts,  performance and output, and costs and unit rates.
We can provide guidance on virtually all specialistic production processes, like cutting rock, pumping mixtures, trenching,  and the sub processes of dredging with a TSHD, to the level of detail desired by the client. With the wide background in geotechnical engineering, hydraulic engineering, mechanical engineering, and our unique practical experience and expertise in dredging and marine engineering, our consultancy services not only provide the answer to the question at hand, but also ensure that the key questions are addressed properly
.