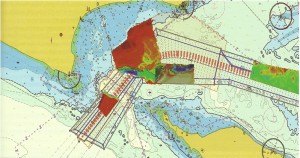 Dredging and marine works are virtually impossible without proper hydrographic surveying. Clients need to give due care and attention to several questions with significant implications, like:
How often are survey results required, and for which end-users?
Is low sounding frequency or higher frequency preferred?
Is multibeam surveying with overlapping swaths required?
What is the required accuracy, and is the quality control protocol robust?
Is the survey executed by the contractor, by the client, or by an independent survey company?
When are client representatives required?
Are the results of intermediate surveys used for interim payments of the construction contract?
Blue Pelican Associates deals with these questions in almost every single project, and each project is different as far as survey is concerned. Client requirements are always determining the details of the survey arrangements decided upon.