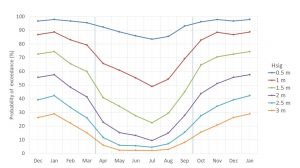 Marine works projects like breakwaters or revetments, and the installation of pipeline protection,  are often designed based on extreme load conditions and failure probabilities.  To achieve the "end result" as drawn, requires a robust contract as well as a sound understanding of the challenges of the actual construction processes. For both the experience of Blue Pelican Associates is of great benefit to the project owner, including:
analyze the operational conditions statistics (wind, wave and swell) during the envisaged construction months
assess robust and cost effective equipment and work methods (land-based and/or floating equipment)
determine logistics needed for supply of rock to site and towards the workfront
time schedule of the sub-processes
visualization of the construction process
survey methods and accuracies
assess the risk of storm damage
various other important "details" like: interfacing with other works, storm shelter, site supervision, environmental monitoring.