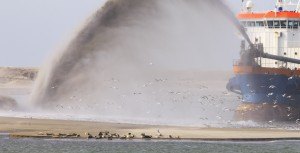 To plan, design, prepare, procure, and realize marine works projects involves many parties over an extensive period of time. Based on a thorough understanding of marine works, challenging site conditions, execution options and practices, and the contractual relation of the employer and the contractor, BPA is capable to advise the client in a realistic and pragmatic way throughout the subsequent phases of the project.
An example is the drafting of functional requirements or technical specifications as part of the contractual array of documents. Precise wording is needed to a
chieve the result which is expected, both in terms of scope and in terms of value for money. Based on the in-depth knowledge of execution practices in dredging and marine works, BPA is able to advise clients on do's and don'ts in this respect.
Another example is the allocation of risks to the employer or the contractor, or, alternatively, a shared risk approach. BPA can provide insight in the risks (both the probability and the consequence) and the pros and cons of allocation options, and the contractual implementation.
During the construction phase often situations occur which r
equire the experience and knowledge of a marine works expert to consider the options swiftly, evaluate consequences, and decide on the best route forward. For BPA experts such a project management role is second nature, always closely liaising with the client. We also assist in case of disputes, either to avoid them, to attempt settlement, or to act as independent expert witness in case of adjudication or arbitration.